NEW EXCITNG CLASS!!!!:
CONTEMPORARY DANCE TECHNIQUE BY ALYSSA WALLACE
THURSDAYS 7PM @ Aerial Dance Theater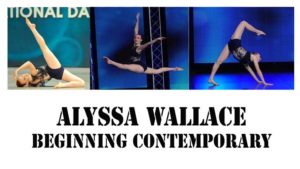 About Alyssa:  Our newest faculty, Alyssa has been a dancer her whole life and worked at many theme parks including Disneyland and Legoland.  She has recently completed the International Aerial Teacher Certification course, a precursor to being an aerial certified teacher.  Contemporary dance is just one of her forte, having competed and awarded at many regional and national dance competitions.
To reserve a spot for Beginning Contemporary: Click Here