A Peak at RUBY KAREN PROJECT's OUTSTANDING STUDENTS
April 30, 2017, Sabrina Turjman (RKP Contributor)  
Ruby Karen Project Aerial and Performing Arts School is proud to honor the accomplishments and achievements of Jenna Ali, Staci Ensminger,and Maddie Seay.  We love to watch our students reach their greatest potential through hard work and dedication.  These young women have projected their eagerness to learn by sacrificing time, attending classes, and pursuing opportunities.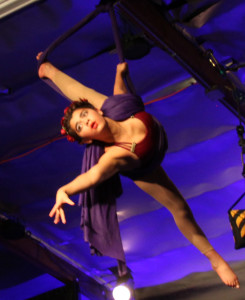 Committed aerialist, actress, dancer, stage technician, choreographer, and student body president, JENNA ALI (14) proves that there is no substitute for hard work.  Jenna started her aerial training at the tender age of 6, at the Ruby Karen Project.  It was there she discovered her love for the diversified aerial disciplines, namely, Aerial Silks aka Tissu, Aerial Hoop or Lyra, Aerial Hammock/ Sling, Static Trapeze, as well as  Ballet and Jazz.  Jenna has competed in Aerial Arts America's annual West Coast Aerial Arts Festival (WCAAF).  In 2013, she won 1st Place in the Open Amateur Category performing Aerial Hammock.  In 2014, she took home 1st Place in Aerial Hoop for her age group, 12 & under.   In the 2015 WCAAF, she garnered 1st Place in Aerial Tissu/ Silks and 2nd Place in the Open Group category for her age group.
In 2014, Jenna underwent Aerial Arts America's rigorous teacher training certification program, the International Aerial Teaching Training Program (IATTP).  She recently completed all the certification requirements, placing her as Aerial Arts America's youngest certified aerial teacher . She took on many roles at Ruby Karen Project, including an aerial instructor position, an excellent choreographer and creative artist, a role model for young artists, and a friend to all.  As she ventures into other areas of the performing arts, Jenna continues to seek new avenues including her recent acceptance into Orange County's Academy of Performing Arts Acting and Theater Program.  Jenna is an active artist in Ruby Karen Project's performing troupe and Orange County Aerial Arts (OCAA).  Since 2016, Jenna started pursuing her love for the performing arts by joining RKP's professional troupe, CIRCO ETEREO ENTERTAINMENT.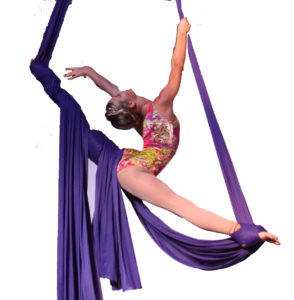 STACI ENSMINGER (16) has illustrated her devotion to the aerial arts through her anchored perseverance.  She started her aerial endeavors at the Ruby Karen Project when she was 12 years old.  Along with her with her gymnastics and lyrical dance background, she specialized in aerial divisions including Aerial Hoop, Tissu/Silks, and Trapeze.  Shortly after her enrollment, Staci joined Ruby Karen Project's apprentice program.  She became a member of the OCAA and held roles such as Rabbit in Alice – Flight to Fantasy, and Aurora in Sleeping Beauty.  Among her participation in the multitude of opportunities that the Orange County Aerial Arts provides, Staci had the privilege of performing as the main aerialist in the ALICE role, at Charles Maples' ballet production of "Alice in Wonderland in 2015", and a guest artist at Focus' 2016 Concert, both of which were held at the renowned, Barclay Theater. Together with Jenna and Maddie, in 2015, they represented the Ruby Karen Project at the American Youth Circus Organization Summer Festival in Portland, and were raved for their technique, versatility and overall performance. Staci began competing at the West Coast Aerial Arts Festival since 2014.  In her category, she took 1st Place in Open Group and 3rd Place in Tissu/ Silks in 2014.  She then won 1st  Place in Open Group and 3rd in Aerial Hoop in 2015, and in 2016, she garnered 3rd Place in Aerial Hoop.  She also competed in the 2017 VIVA Fest and won 1st Place in Static Hoop.  In 2015.  Her skills and dedication garnered her a year's scholarship from the Ruby Karen Project in 2015, and the year after, she earned another scholarship from Aerial Arts America's program.  Staci is amongst the very few students that has been accepted at the prestigious, Ecole Nationale Montreal's summer program for 2016 & 2017,.  And this year, 2017, Staci was invited as a youth artist for Circo Etereo Entertainment, and concurrently has joined La Petit Cirque, a youth professional company in Los Angeles.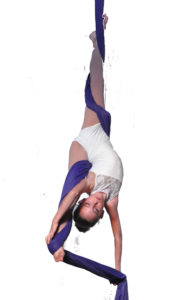 Excellence is a habit, and MADDIE SEAY (15) demonstrates that.  Maddie has been consistently taking classes at the Ruby Karen Project since she was 10.  She joined the apprenticeship program, became a member of the OCAA, and got the lead role of Alice in Alice – Flight to Fantasy.  After only just one year at the Ruby Karen Project, Maddie began competing in her category, e.g. kids and youth divisions which were the most challenging divisions. At the WCAAF, in 2013, she won 1st Place for Tissu/Silks and Aerial Hoop.  In 2014, she took 1st Place for Tissu/Silks, and 2nd Place in Aerial Hoop.  In 2015, she vanquished 1st Place in Tissu/Silks and 2nd Place in Open Group.   In 2016, she garnered 2nd Place in Tissu/Silks, and recently came in 3rd Place at the VIVAFEST in 2017.  In 2015, Maddie was granted a scholarship from Ruby Karen Project.  This year (2017) she is a recipient of the Aerial Arts America scholarship program.  She is also currently a youth ambassador for the American Youth Circus Organization and attends their conferences.  She was invited in 2014, and since then, performed as a youth entertainer for Circo Etereo Entertainment., and recently in 2017,  together with Staci Ensminger, Maddie joined the La Petit Cirque.
Jenna, Staci, and Maddie are role models that exemplify the success and professionalism the Ruby Karen Project sets as guidelines and high standards in the field of aerial arts education.  They have just begun their journey to the real world of performing arts and we see no limits to what our young women can do.   We congratulate them and wish them the best in their continued flight.
To learn more about the Ruby Karen Project, its programs and their students, visit: www.rubykarenproject.com
Click HERE to see Orange County Aerial Arts Youtube videos featuring our students, including Jenna, Staci and Maddie.