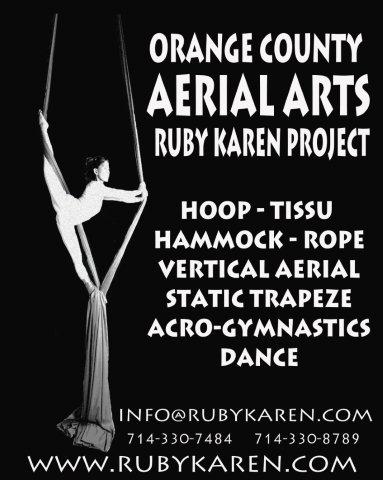 Formed in 2009, the RUBY KAREN PROJECT is an educational performing arts school and the engine to the ORANGE COUNTY AERIAL ARTS, a performing arts company for the which the RKP students are derived from. Their mission is to educate, promote & market Aerial Arts in the performing arts industry through instructions, demonstrations, showcases and performances and aims to reach out as the official performing Aerial Arts group in Southern California. It's discipline is primarily AERIAL ARTS, with Circus Arts and Movement (in the form of DANCE including acrobatics, adagio partnering, acro-gymnastics, ballet, contemporary and latin dances).
Meet the OCAA Team  (please scroll down)
---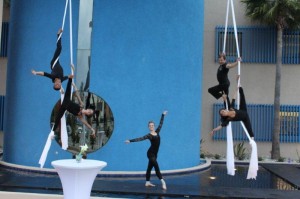 The Orange County Aerial Arts is the performing team of the Ruby Karen Project.  It is the organizing body that promulgates the APPRENTICESHIP, a program that caters to serious students, whether they be for academic or recreational approach, students open to all ages, who not only wishes to bump up their training with non-repetitious innovative and unique exercises but also engages their creative skills, coordination, strength and endurance. The APPRENTICESHIP is also more commonly known as a pre-professional training program that provides a platform for the students to express their learned skills and apply the same in an audience setting.
Founder of OCAA, Program Designer and Artistic Director, Ruby Karen, together with Technical Director and husband, Luca Cecchini are the fore-frontiers of the Ruby Karen Project and the Orange County Aerial Arts.
Previous Productions:
SUPER HEROES MASH UP
April 1 & 2, 2017

Presenting OCAA apprentices and students of the Ruby Karen Project, the Super Heroes Mash-Up showcases aerial and dance acts  as each portrays various roles in Marvel and DC Comics.  On its 9TH ANNUAL SHOWCASE PRODUCTION, the concert also features two special acts choreographed and with creative aerial concept by Ruby Karen.


First Showcase: ASGARD, Home of the Norse Gods and the teaming up of Thor, his guards and portrayal of Loki's character.  Thevarious roles will be translated through dance and aerials, including Vertical Rope, Cloud, Trapeze and Double Sling

Second Showcase:  Influenced by Marvel's Captain America – Civil War: The BATTLEGROUND
Our faculty will render short cygnets of aerial acts as they fight against each other. With character roles including Captain America, Iron Man, Bucky, Spiderman and Vision

Various superhero and villain roles shall also be presented on Aerial Hoop, Tissu, Rope, Hammock, Trapeze and more.

BREATH OF LIGHTS

-Inspired by Suzanne Collin's, the Hunger Games, Orange County Aerial Arts is presenting its 2016 annual showcase.

BREATH OF LIGHTS features surreal acts interpreted through aerial, dance, acrobatics and circus arts representing strength, courage, charm, uncanny amusements, intricate forms and shape assembling of factions and characters including Katniss, Effie and Ceasar Flickerman as portrayed in different intriguing and entertaining roles. The script also provides light hearted vibes that bring in comical images through its costumes and props. And as we work through the technical challenges of changing aerial equipment, in combination with creative lighting to justify and fulfill the artistic content of the pieces, one cannot ignore the resulting complimentary and innovative designs.

It is also with great pride to introduce a special piece, the "Candle Yoga" created by Maharashtra's Mallakhamb and Yoga master, Sir Uday Deshpande's, and re-staged by Ruby Karen. Said act will be this production's opening number.

Creative Concept and Choreography by Ruby Karen
Technical Production by Luca Cecchini
Lighting Design: AJ Vasquez; Costume Designs by
Suzette Ali, Edie Morton and Laurel Castenholz
FAIRYTALE IN BLUE

April 11 & 12, 2015

Meet your favorite fairytale characters performing stunning beautiful aerial and ground acts. Presented by Orange County Aerial Arts with participation by Orange County Arts Center, this show will surely reminisce your fairytale visions. Great place to take your family and friends.

ALICE:  FLIGHT TO FANTASY
Ruby Karen's adaptation of 
Lewis Carroll's Alice's Adventures in Wonderland and the first and only aerial production staged so far.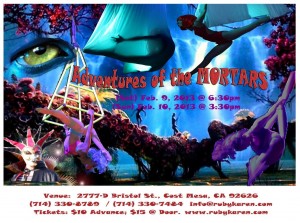 ADVENTURES OF THE MORTARS
Saturday & Sunday, February 9 & 10 @ 6:30pm & 3:30pm
A world with no rules or structure, three Mortars escape from their precious NADIR, and travel to different dimensions and time, exploring different worlds and understanding how to deal with their chaotic land. They realize that as they see NADIR'S current state, in time they will be extinct. The experiences they learn from Jurassic and Earth gives them the the strength to return and change their world. Written by: Ruby Karen
TALES OF THE GODS
Saturday, January 28, 2012
Stemming from Greek mythology, this production featureD the many Greek Gods and their stories presented in a variety of theater arts disciplines including circus and aerial acts as well as dance forms. The apprentice team of the Orange County Aerial Arts starred in this one of a kind aerial performing arts production
NIGHTMARE ON AIR

October 23 & 24 7pm & 3pm: Village Theater

AIRBORNE

April 17, 2010 – Village Theater
Video: AIRBORNE Excerpts –
April 17, 2010
Video: Blast from the Past –
October 22, 2011
JENNA ALI – AERIALIST and AERIAL INSTRUCTOR
Jenna started her aerial arts training since 2009 at the age of 6 years old here at the Ruby Karen Project.  A protege of this school, she is well equipped with the finest training technique both from a performance and teaching standpoint.  Her training also includes her completion of the International Aerial Teachers Training Program (IATTP), course approved by AERIAL ARTS AMERICA (issuing organization for aerial teacher certifications).

Jenna won several aerial arts competition at the West Coast Aerial Arts Festival including the following:

1st Place  – Open Kids Aerials 2013  (Age 7-12)

1st Place – Kids Hoop/ Lyra 2014 (Age 7 – 12)

1st Place – Kids Aerial Silks/ Tissu 2015 (Age 7 – 12)

Jenna is the youngest IATTP graduate and teacher of the Ruby Karen Project.  She handles the kids classes and assists, choreographs and coaches for the Apprentice program.
MCKENZIE PREWITT – Acrobat Coach
As an elite competitive Acro-gymnast for 10 years, Kenzie, traveled all over the world competing in several international competitions in countries including Poland and Belgium. In her last competitive years, her trio team became the National Champions in 2004, and was part of the USA Gymnastics National team. I attended school at CSU Sacramento and earned a BS degree in Kinesiology exercise science, she returned to Orange County in August 2010, began aerial training with the Ruby Karen Project's Aerial School and became a part of the OCAA apprentice team, to expand her skills and growth in the field of aerial arts, both as an athlete and performer.  Mckenzie completed her International Aerial Teacher Training Program (IATTP) in 2013.
Guest Instructor –  Performer
OCAA Alumni

BRANDE LEE – Aerialist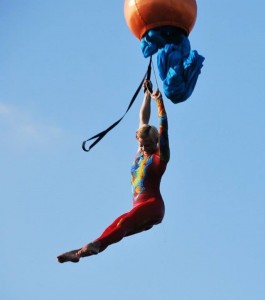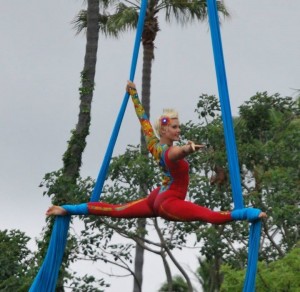 Brande Lee has been studying and performing circus/aerial arts since 2009. She specializes in aerial lyra, silks, hammock, pole, and hoop dance.
Brande began her aerial training with Orange County Aerial Arts (OCAA)/ Ruby Karen Project and is an alumni of their 2009-2010 apprentice program. She performed in OCAA's "Airborne" and "Nightmare on Air" and still trains and performs with them to this day. Brande furthered her professional training at the New England Center for Circus Arts (NECCA) in their 2013-2014 Intensive Training Program.
Over the past five years Brande has performed with her company, Elevated Aerial Dance, VIP Woman's Dance, Wire Monkey Dance, SHOW Circus, and currently, she is performing as an aerialist in the 2014 Cirque de la Mer show at Sea World, San Diego.
Brande competed at the  2014 West Coast Aerial Arts Festival in the professional division and garnered 1st Place in her division as well as the overall winner.  She is currently a household name in Seaworld's Cirq de la Mer, having been invited to perform for several consecutive years.
---
Meet our Apprentice Team
Apprenticeship Program: Students undergo intensive training geared to prepare them for performances. Training not only consist of aerial and dance training, but also undergo other production areas including costumes and make-up, rhythm,timing, musical cueing and synchronizing of movements, stage presence and interpretation, and working with a partner or a group within a choreography. You can watch our apprentice group in several of our showcases and productions. See Upcoming Events
Here is a video clip of our Apprentice team – the future OCAA members.