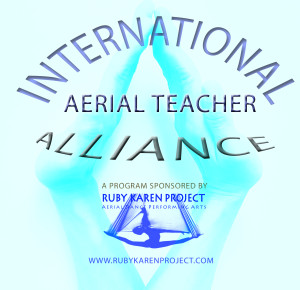 What is "IATA" (International Aerial Teacher Alliance)?
Organized three (3) years ago, IATA is a pool of organizations that stem from the Ruby Karen Project's teaching certification program and serves to provide guidance to teachers and the performing arts organizations relative to education, marketing, standardization, funding and production/ rigging issues.
IATA is committed to:
provide guidance in the member's syllabus
licensing of the RKP curriculum and it's IATTP* based teaching method, to help standardize the aerial arts education.


*International Aerial Teacher Training Program
conduct Placement Examinations to member's students/ clientele
provide joint programs that will compliment and entice business growth .
enhance the cultural and artistic environment through productions and entertainment
Become a member of the growing alliance of performing artists, schools and organizations.
[important]Introductory Offer[/important]:
Individual Member:  $75./ annually
Organizational Member:  $150./ annually
Partner/ Franchise Member:  $500./ annually
Membership Sign up:  IATA Membership