TAKE ADVANTAGE OF OUR DEAL BREAKING PROMOTIONS:
 

PRIVATE CLASSES


SPECIAL PRIVATE AERIAL SESSIONS
:::LIMITED TIME ONLY:::

Email us or  TEXT (714) 330-7484 us to reserve your private session

CLICK FOR CHOICES OF PACKAGE LESSONS

Jump Up your aerial vocabulary with these special training sessions.  You will learn unique tricks and composition including various levels of DROPS – ROLLS and FLEXIBILITY shapes. Choose from various options according to your level. Each option equates to up to 12 lessons, thereby learning these at a shorter period of time and provides big savings appropriated for your aerial tuition. There are at least TEN (10) OPTIONS to choose from on Silks – Lyra – Trapeze – Hammock


COST:       Single Person: $120/1.5 hrs
Double:  $170./1.5 hrs.

UNLIMITED CLASSES

$250./ month
30-Day Expiration on all Packages

Purchase a Class Package or Check Schedule of Classes
ALL YEAR ROUND PROMOTIONS:
For Groupon/ Living Social Customers: Please know that we match our own Groupon promotion.   Please scroll down for redeeming instructions.


Los Angeles Aerial Classes and Open Practice


4 Class Package Plus 4 Open Gym $112. including registration fee for

New Students

(33% OFF). To avail of this LA Promotion,  CLICK HERE.
Location Address: Brockus Project Studios 618-B Moulton St., Los Angeles, CA 90036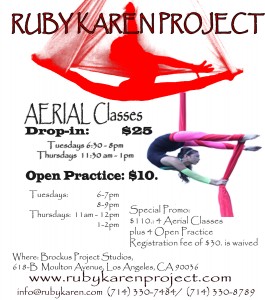 PROMOTIONS CANNOT BE COMBINED
Groupon/ Living Social Customers:  Welcome to our Circus Aerial Arts space! For redemption procedure, please follow these steps:
Please register online: http://clients.mindbodyonline.com/ws.asp?studioid=30225&stype=-2.  The registered name  should be the student attending the class. Make sure to fill out all items.
After you register, you will receive an email asking for your voucher number.   Please respond to this email at once so you can reserve a spot as early as possible.  Make sure to add info@rubykaren.com in our email safe list.
Once the voucher number has been reconciled, you will be prompted by an email letting you know that you can now sign-in and reserve online.
Give between 12-48 hrs before logging into our system and reserving a spot.  If you are unable to sign in, please email or text us (714) 330-7484.
Limit 1 per student.  Please take note that all packages

expire after 30-DAYS of first class

. Voucher valid within 4 months from the date of sale. Promotions cannot be combined.
[important]*** For the 90-minute package,you can choose any Aerial Dance Fitness classes.  Alternatively, you can choose the Aerial Beginners' tricks class as well.  [/important]
We look forward to seeing you in class.  Feel free to give us a call if you have any questions.