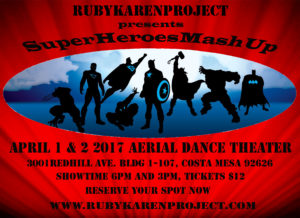 Catch our students while they dazzle you with their super heroic aerial acts at our annual production – this year's theme concert and production by Luca Cecchini:
SUPER HEROES MASH UP
Saturday, April 1, 2017 @ 6pm
Sunday, April 2, 2017 @3pm
3001 Red Hill Ave. Bldg. 1-107, Costa Mesa, CA 92626
Tickets: $12. – $15
Please get your tickets online at Brown Paper Tickets:
Seating assignment will be based on date of purchase.